Race Forward: The Health Equity Guide for Employers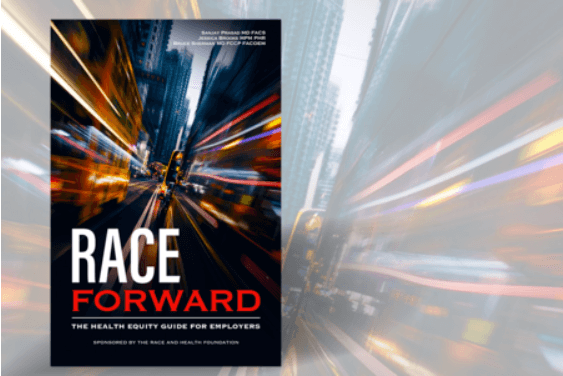 Race Forward: The Health Equity Guide for Employers
The Race and Health Foundation and SurgiQuality are thrilled to announce the release of a groundbreaking book that will revolutionize the way employers approach health equity: "Race Forward: The Health Equity Guide for Employers." Written by notable authors in the field and edited by esteemed medical professionals Jessica Brooks Woods CEO, MPM, MHR, Bruce Sherman MD, FCCP, FACOEM, and SurgiQuality's own Sanjay Prasad MD FACS, this guide provides practical strategies to empower employers in addressing racial health inequities that affect their employees, plan participants, and the surrounding communities.
"This book empowers employers to not only acknowledge the impact of race on health outcomes but also take meaningful steps towards fostering a more equitable and inclusive work environment." – Dr. Sanjay Prasad MD FACS
Understanding the Guide
Ultimately, "Race Forward: The Health Equity Guide for Employers" is a comprehensive resource that equips employers with tangible strategies to tackle health inequities within their organizations and communities. Likewise, as the first health equity guide designed for the business community, the Race Forward book covers a wide range of critical topics and provides actionable insights to empower employers as stewards of change. The authors of Race Forward address terms like implicit bias, social determinants of health, medical mistrust, and many more to ensure business professionals have the knowledge to provide all their employees with advanced, fair healthcare.
Why It's Important

Race Forward: A Health Equity Guide for Employers highlights the critical importance of addressing racial disparities in the workplace and the broader context of health equity. This guide provides a comprehensive understanding of the intersectionality between race, health, and employment, offering practical strategies for employers to cultivate a more inclusive and equitable work environment.
By reading this guide, employers gain essential knowledge and tools to dismantle systemic barriers, reduce health inequities, and foster a workplace culture that embraces diversity and promotes the well-being of all employees. In a time when organizations are increasingly recognizing the urgency of addressing racial disparities, this guide serves as a crucial roadmap to help employers navigate complex issues and take meaningful action toward achieving health equity in their workplaces.
Race Forward Book: How to Purchase
"Race Forward: The Health Equity Guide for Employers" is truly a groundbreaking resource that equity-conscious employers should purchase to drive meaningful change in addressing health inequities. By simply making a donation of $50.00 or more to the Race and Health Foundation, you can gain access to this transformative guide and contribute to our mission of achieving health equity for all. If interested, sponsorship opportunities are also available for those who wish to further support our critical work. So, together let us harness the power of knowledge and take proactive steps to create inclusive workplaces, improve health outcomes, and build a future where everyone has equal access to quality healthcare.
Don't wait — donate today and join us in the journey towards health equity.